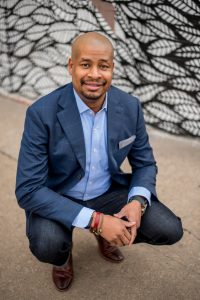 Hi!
I'm Alvin, Founder and Head Style Guy of CStyled, aka The Denver Haberdasher.
I am a Denver native that grew up going to fabric stores with my mom, who made most of my clothes as child. That was the beginning of my love for clothes.  The shoe obsession came shortly thereafter.
Now I live in the heart of downtown Denver in the Golden Triangle with my wife Julianne and our fashionable Boston Terrier, Theryldon Swoosh Cooper "Teddy."
I have over 20 years of diverse professional experience, wearing everything from a tank top and shorts to a suit and tie for work.  Playing beach volleyball, coaching volleyball, managing executive benefits for fortune 500 companies, outside sales, retail sales, retail training, and retail management have given me a wide variety of professional experiences to draw from.
"Style is more than just clothing…"
-Alvin Cooper III
FAQs
Who do I typically work with?
Men who want to improve their style, transition to a new career, don't like to shop or know what to put together.  I also work with a lot of grooms that want to invest in a great suit or tuxedo for their special day!
Do you work with Women?
Not at this time, but I have excellent referrals for you.
Where do you shop for your clients?
If it's not a custom or made-to-measure piece that I can provide, we frequent a variety of different stores depending on style preferences and budget.
Do I shop at boutiques or outlets?
Sometimes, however, they can be a challenge due to options and availability of product and sizes.
What do my average clients spend on a wardrobe?
This varies due to your needs, lifestyle, and what you need.  Some have spent as little as $500 and as much as $10,000 or more over a period of time.
Can you help me after 5pm M-F or weekends?
Yes, I realize some of my clients have a traditional work schedule so I am flexible