Once upon a time all my dress socks were black, brown, navy, and gray.  It was a very sad time, and common for most guys to only have these options in their sock drawer.  Don't get me wrong there is a time and a place for basic socks like formal events and job interviews.  If you are not sure what to do in the brave new world of socks let me help guide you in your journey to set out of the "Basic Sock Box!"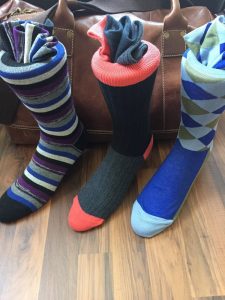 Stripes, Color Block, and Argyles are just a few of the options you can find out there.
So what should you choose?  "All of them" is the answer I'm looking for.  You don't need to stick with one option or another, mix it up.  Some simple rules you can follow to help you decide what to wear when are as follows:
1.  Pick a sock that has some of the colors from your pants in them (i.e. The stripes above have blue and gray in them so wear them with those pants.  The argyle have a lot of blue so that's an easy choice.)
2.  You could also decide to go with a sock that has colors from your shirt, sweater, tie, or jacket.
3.  Forget about trying to match and just grab the next pair out of the drawer and put them on.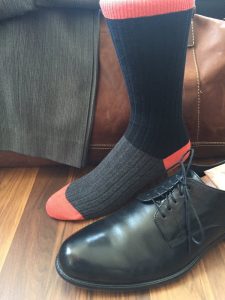 If you are scared to break out of the basics then add some color blocking sock options like this next pair and go with shades darker or lighter than the pants you are wearing to add a little bit of interest.
Last but not least, if you are looking to have the no sock look but still have socks on, there are options for you! They're called "no-show" socks...
The color you are wearing does not matter because no one can see them!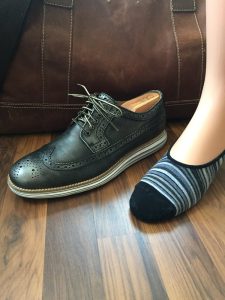 Please follow and like us: