Let's talk about the 3 Reasons Grooms Should Get A Custom Suit.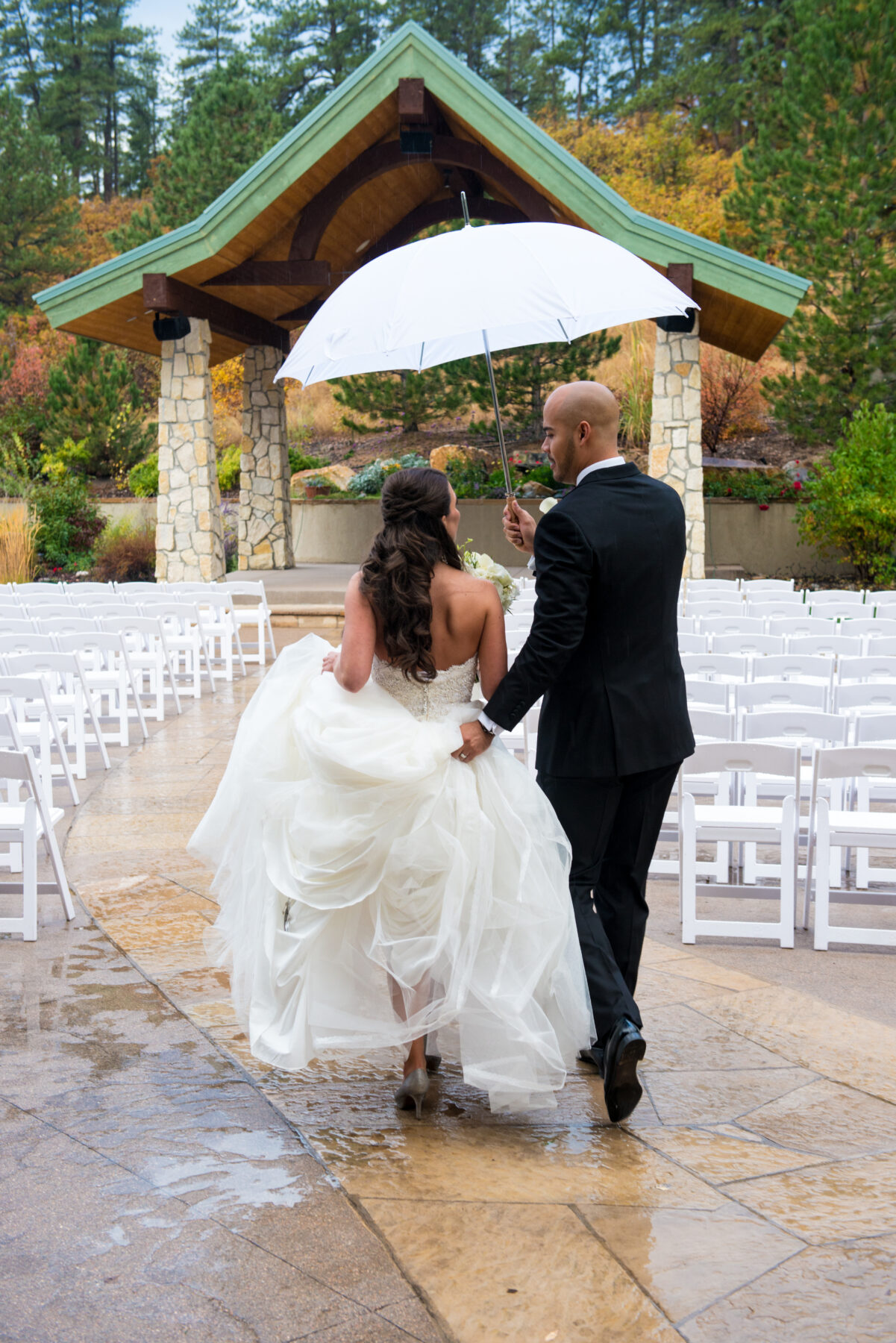 Everyone knows the wedding day is mostly about the bride and the dress, and frankly, most guys are just fine with that.  However, there are 3 reasons every groom should get a custom suit.  Why, you ask?  When was the last time you went to a wedding and the bride wore a rented dress?  I've been to over a 100 weddings and not once was the bride's dress rented.  In fact, every bride I have known had to special order the dress she wore. Once it came in, she then had multiple fittings to ensure that it fit perfectly.  I really could stop there, but I did title this "3 Reasons."  Let's start with the first reason every groom should get a custom suit.
Reason 1:  It's an Investment that can be used for years to come
Unlike the wedding dress that is pretty much a one and done, his new suit can we worn for many years to come.  For example:
Other weddings
Job interviews
Holiday Parties
Special Occasions
It doesn't matter how casual the guys is or what he does for a living.  Every Man needs a good suit that fits him well.  Plus, how special can he feel in a rented, ill-fitting suit that who knows how many other guys have worn.
Ladies, this is one way how you get us more involved in the wedding planning process.  Obviously, we didn't dream of this day as a little boy, but it is our day as well and we should contribute.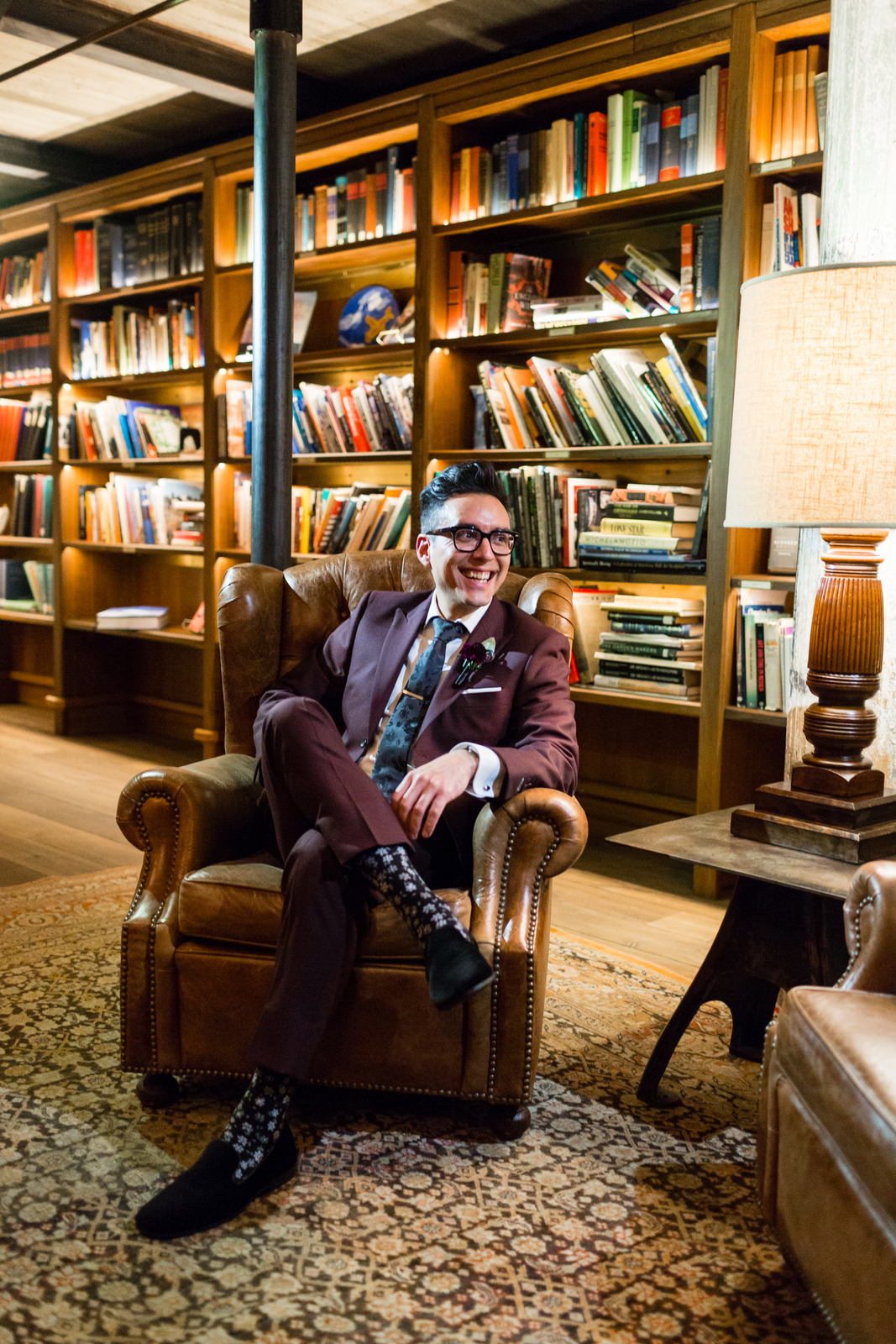 Reason 2."You can't photo shop poor fitting clothing…"
Don't forget photos are permanent memories of the event and we know you are going to look great in your dress. So, he should also look as good as possible, too.  You can't photo shop poor fitting clothing and in over 50% of all the wedding pictures I have seen, the men look terrible.
Suit jackets are too big
Pants are baggy and too long (you see fabric pooling over the shoes)
Shirts too big (shirt fat everywhere)
Un-shined shoes
Here are some cropped pictures to show you what I mean (faces hidden to protect the guilty):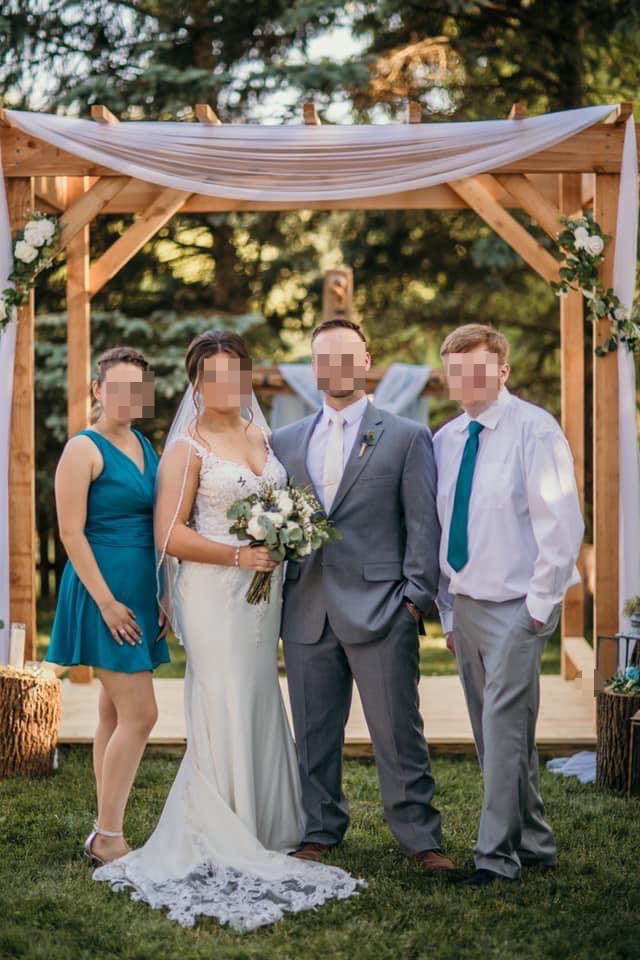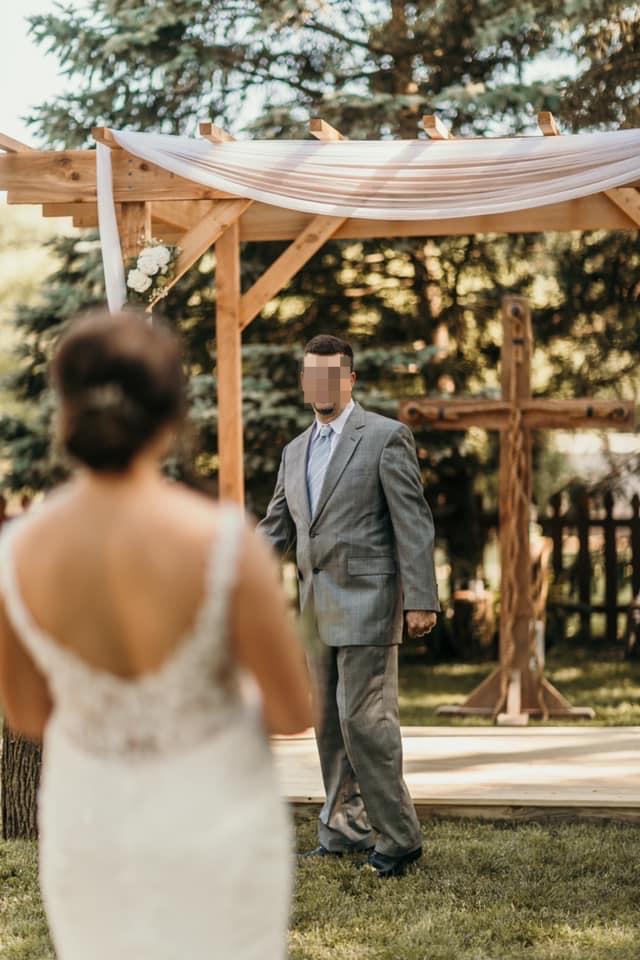 Her dress has been perfectly fitted and tailored during multiple fittings.
As I mentioned before, ladies, your dress has been perfectly tailored with multiple fittings in most cases.  Why do you take so much time and effort?  So you look and feel your best!  Shouldn't the same attention to detail taken with the groom?  I think so, and it's not just because I design and sell custom suits.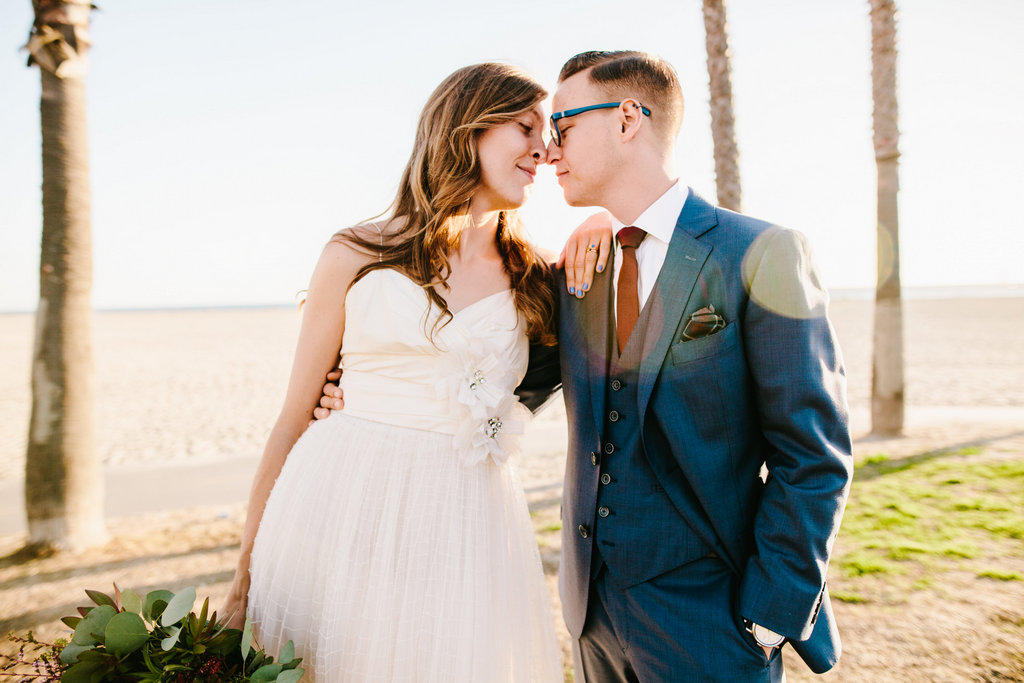 Standing taller and smiling bigger
Everybody feels good when they receive a complement on how they look.
Recently, I had 8 of my recent grooms volunteer to walk the runway in their wedding suits for a bridal show, none of them had ever done this before. Why now? Because they were confident in their clothing!  They knew they looked sharp!!!  It didn't matter to them that the ladies in the wedding gowns walking beside them were professional models.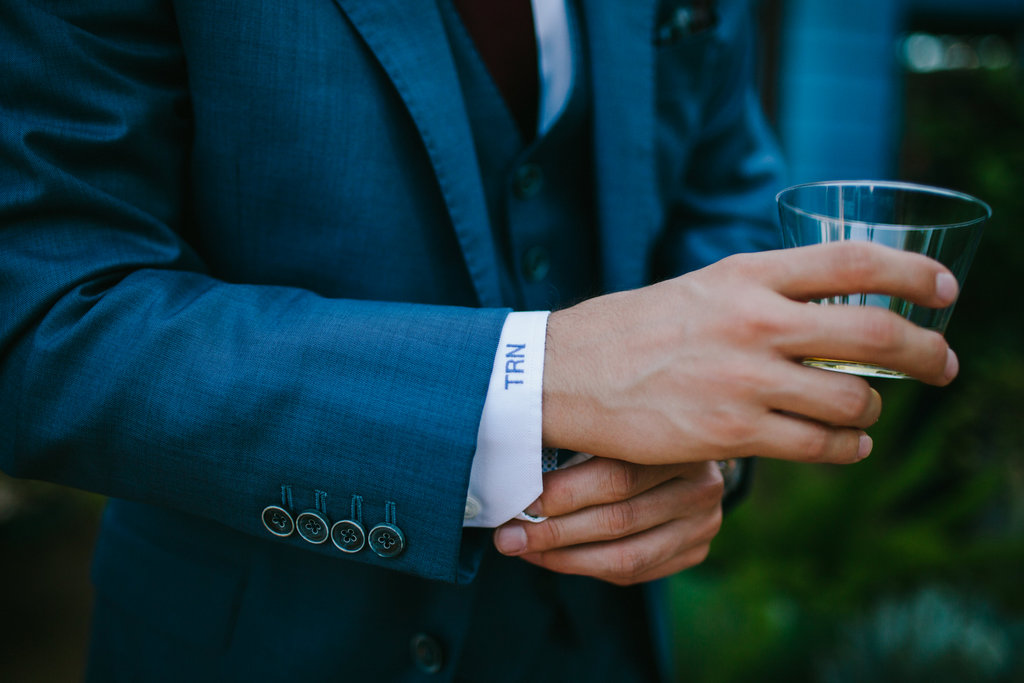 When should you start talking about the groom and groomsmen attire?
Start early so he can put some money aside for his suit. Don't wait until 2-3 months before the wedding like all the planning guides say.  Here's when I would recommend you get him going on the journey:
Shortly after the dress has been picked and you have booked the "Big 3"
Venue
Photographer
Officiant
I made up the "Big 3" because I know those things need to be done first and everything else falls into place after.  Once you have an idea of what the theme or feel you are going for, you can get the groom on task.
Make sure you factor in the groom's suit with your overall budget for your wedding. Costs can vary quite a bit because it is based on quality of fabric, where its made, casual verses formal, etc, so here are some general numbers.
Custom shirts start at $120 (these also make a great groomsmen gifts).
Suits prices range from $700-$2,000.
Remember:  Every guy, no matter how "Casual" he is, needs a good suit that he can wear to other events that come up from time to time.
Let's make sure these grooms look their best!